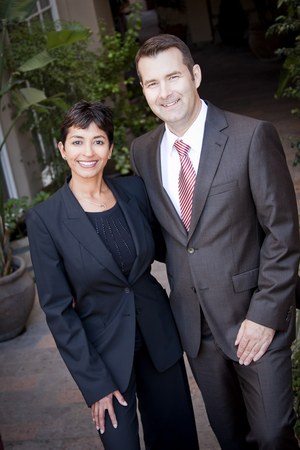 Top Officiant was born out of love for bringing couples together in their diversity. Rev. Gabriel Zuehlke and Rev. Vidya Ramanathan, the founders of Top Officiant, are ordained non-denominational ministers with the passion and commitment to make your special day what you have always dreamed it to be. They are very happily married together and know what it means to be united in love and spirit. Their goal is to offer couples an easy way to get married without compromising on individual beliefs and desires.

Their knowledge and expertise makes them your top choice for creating a memorable and perfect day. They bring their love and special touch into your ceremony to make it unique and unforgettable.

The Top Officiant Promise:
Partner with you to make your experience pleasant and worthwhile.
Approach your happy day with the utmost respect, love and care.
Why Top Officiant?
You want someone who is dependable and non-judgmental of your values and beliefs.

You want a ceremony that reflects your deepest and true intentions.

You do not have a specific religion and want a neutral ceremony.

You have different faiths as a couple and want a ceremony that honors your individuality.

Your original choice to perform your ceremony will not travel out of location or is not available on the specific day you requested.

You want a civil ceremony at a location where the County Clerks cannot officiate or you don't want to stand in line at the County Clerk's Office.

You want your ceremony to feel special and well thought-out.

You would like a destination ceremony or want advice on the best location for your ceremony. You want to hire someone with knowledge of the area, rules and regulations.

You have an idea for how your special day should flow and want the expert to make it happen.

You decided to elope and need an Officiant to conduct your ceremony.

Home | About | Packages | Wedding | Vendor | Contact Us | Sitemap
Top Officiant, Inc | 6475 E. Pacific Coast Hwy #312 Long Beach, CA 90803 | Phone: 1-855-HAPYDAY (427-9329)